About Facets of Foscoe
Contact Information
Call, Email, or Find Us
Phone: 828-963-5928
Email: info@facetsoffoscoe.com
Address:
8998 NC Hwy 105 South,
Foscoe, NC 28604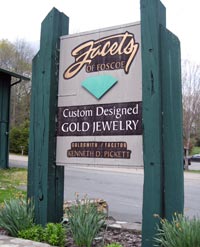 For more than 30 years, Kenneth D. Pickett, owner of Facets of Foscoe, has accentuated the relationship people have with their jewelry by offering mining for real gemstones and by custom designing jewelry around those gemstones. Facets of Foscoe offers one-of-a-kind jewelry to customers around the world through this website, and if you like you can visit their physical location and mine for precious gemstones and design jewelry around their personal finds that can be made within 24 hours.
We fill orders from all over the world!
Because of his talent for making custom one-of-a-kind pieces of jewelry, Pickett receives orders from all over the world for his work. "I can handle just about any jewelry order people can give," said Pickett, who has cut gemstones for close to 40 years and has worked with gold for more than 25 years. "And I do what most jewelry stores don't do anymore," said Pickett. He will melt down customers' scrap gold and make new pieces.
We can meet all of your needs!
Whether you're looking for that unique, one-of-a-kind ring, bracelet, broach or other item as a gift for a wedding, engagement, anniversary or for ANY occasion, Facets of Foscoe can create a custom piece that is certain to impress. Facets has included many unique pieces on this website and we invite you to look them over by category. If you don't see just what you're looking for, call us and we're likely to have what you're looking for in our inventory.
More Information
If you need information about any of our services, please feel free to use our contact form, send us an e-mail to info@facetsoffoscoe.com, or give us a call at 828-963-5928.